WELCOME TO DZISSEN KEMPO COMBAT ART FEDERATION REPUBLIC OF ARMENIA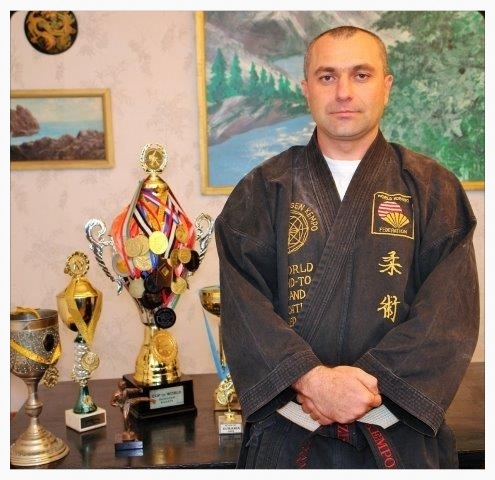 Dear Colleagues and Friends:
Thank you for visiting Dzissen Kempo Combat Art Federation of Armenia website.
I have founded the school in 1990 when I was just 23 years old. The school is a registered public organization (or N.G.O.).
To date, the school has produced 8 World Champions, 70 Eurasian Champions, 27 CIS Champions, 40 Caucasus Champions, and 500 Champions of the Republic of Armenia. Personally I have trained over 6,000 children and adults since its foundation.
In addition to the obvious benefits afforded by regular physical exercise, the school inculcates its students with a strong sense of self
confidence, self respect, self empowerment, and self discipline; and teaches healthy living habits including basic nutrition and strong anti smoking and anti alcohol abuse messages. Students are held responsible for their actions, encouraged in their scholastic pursuits, and in participation in their community. Students from diverse schools, backgrounds, and economic levels attend the sports school, establishing and strengthening community relationships.
Thank you for your interest in our school.
Vardan Galstyan

Founder of Dzissen Kempo Combat Art Federation in Armenia - Black Belt 9th Dan, Hanshi.
-- Benefits of Martial Arts --
Young people must have personal goals and a caring supporting system to make their dreams a reality. At Dzissen Kempo, we will make your child a strong, able and productive member of society, armed with character, strong self-discipline and a healthy self-image. As Bruce Lee pointed out, behind the punches, kicks, and knees, a true martial artist learns to sit with himself and see where his weaknesses are. Your child will learn that confidence and respect for others comes from a deep sense of self-knowledge. A martial artist is taught to see, feel, and listen - both internally and externally.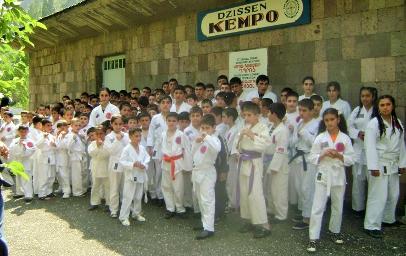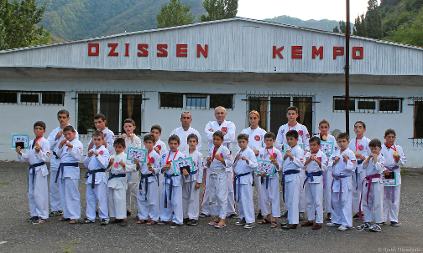 Frequently Asked Questions and Answers
I think the Martial Arts are violent. Actually, the Martial Arts are everything but violent. It is sometimes hard to understand based on the fact that we do practice punches, blocks and kicks, and originally, the practice of Martial Arts was designated only for the warrior classes. However, the practice of Martial Arts is used as a heavy work out, that challenges your mind and spirit.
Also, professional training, allows you to understand the better capabilities of your body, and often teaches you more about how to best control your emotions and actions, while working out with others. All the sparring, and practiced techniques the Martial Arts teach are perfomed in a supervised, controlled manner, in which both practicioners do not harm each other, but rather understand more about their capabilities.
My kids are too unfocused to train. The training of Martial Arts is actually done with the intention of creating Self Control in indiviuals, and to teach them how to focus better. Our professional instructors are ready to cope with any situation that arises at our studio, and therefore, we do not expect any one of the kids to be perfect once they walk into the studio. On the contrary, our lives are dedicated into making them the best they can be.

"I fear not the man who has practiced 10,000 kicks once, but I fear the man who had practiced one kick 10,000 times."
- Bruce Lee